Holiday Factory
Mauritius-has-it-all!
3 & 4 Star Resorts
From R 17 699 per adult

Including taxes
May - September 2022
Quote Me Now
MAURITIUS HAS IT ALL.
Choose from 3 & 4 Star Resorts
Set departures – SA school holidays
Updated 13 April 2022
ATTITUDE HOTELS MAURITIUS
Recharge in Mauritius and enjoy the sea and sun without harming the sea bed! Attitude hotels offers 8 sustainable hotels dotted around Mauritius and giving you the opportunity to enjoy all that Mauritius has to offer. Taste the exceptional variety of culinary traditions in Mauritius and support Mauritius' local farmers. Understand that by choosing a holiday with Attitude, you can make a Positive Impact.
Attitude Promise
Now is the time for action. For positivity. To create a future where travel benefits all. There is always room to grow, new goals to achieve, so Attitude Hotels has launched a Positive Impact movement.
• We protect our environments • We support the local economy • We care about the local community
Attitude have removed single-use plastic in their hotels, and introduced a Bulk Shop so guests can help themselves to tea and coffee for their room in reusable glass jars. They use seasonal and locally-grown produce for dining wherever possible; and only offer non-motorised watersports for a peaceful and marine-friendly experience. Guests are also encouraged to learn about the island's culture through the Otentik (authentic) experiences.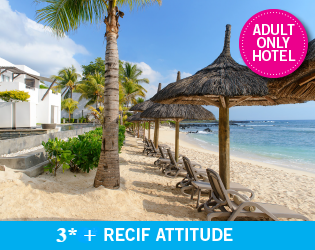 ---
OTENTIK DISCOVERY
Free mobile app • Self-guided tours off the beaten tracks
OTENTIK DINNER
Dinner at a local's home (one of our team members & family) • Upon reservation • At extra cost
OTENTIK MUSIC
Discovering of traditional instruments & local artists • Sega shows • Konpoz to Lamizik competition
OTENTIK BAZAR
"Made in Mauritius" products • Collaborative platform of talents • 5% to the Green Attitude Foundation on each item sold
OTENTIK FOODING
Discovering of the island's culinary traditions • Mauritian cooking class • Kot Nou • Taba-J • Teabaz
---
Includes: Return flights to Mauritius; Return resort transfers; 7 nights accommodation; Meals as specified; All taxes, levies & surcharges (estimate)